20. November 2019.
Graduation ceremony for UDG students
As a reminder of the symbolic number of students enrolled in the first two UDG faculty units, 111 students each in two study programmes, the graduation ceremony is held on 11th November at 11 o'clock every year. This year, the ceremony was attended by about 1,000 students, parents, lecturers, foreign ambassadors to Montenegro, guests from business sector, international institutions and other admirers of UDG work, friends and partners. In addition to the Rector and UDG professors, the diplomas were handed out by partners and friends of the University: Mr. Ahmet Erentok, Chairman of the Board of Directors of Porto Novi and Mr. Osama Makkawi Khogali, Head of the UNICEF office in Montenegro.
What we are proud to say is that the first international dual diplomas were awarded to students of the programme organized by UDG under the franchise of one of the world's best schools in the field of International Hotel and Tourism Management, the French school Vatel. Mr. Paul d'Azemar, Director of International Cooperation of the Vatel Group, addressed the students in very solemn tones.
325 students graduated from ten faculties at the University of Donja Gorica in academic year 2018/19. The total number of students who got a specialist degree is 132. The total number of students who completed a master's degree at our University is 49, while in the same academic year, 5 students completed their doctoral studies.
On the occasion of University Day, a traditional speech was delivered by the rector, prof. dr Veselin Vukotić, who pointed out that UDG is a successful start-up idea, not only in Montenegro. University of Donja Gorica cooperates with over 90 universities from the world, the official language of UDG is English and all graduate students can speak at least two foreign languages. In addition, the Rector emphasised that professors from all continents teach at UDG, and that UDG has a tendency to enable each student (now the majority of them) to study abroad for at least one month; to provide each assistant with study visits at foreign universities or companies; to enhance international student cooperation in the field of start-ups; to pay particular attention to collaborations in the field of blockchain, computing, information technology, economics and energy. UDG will further develop the Talent Camp, UDG is about to launch the International Summer School for Innovation and more.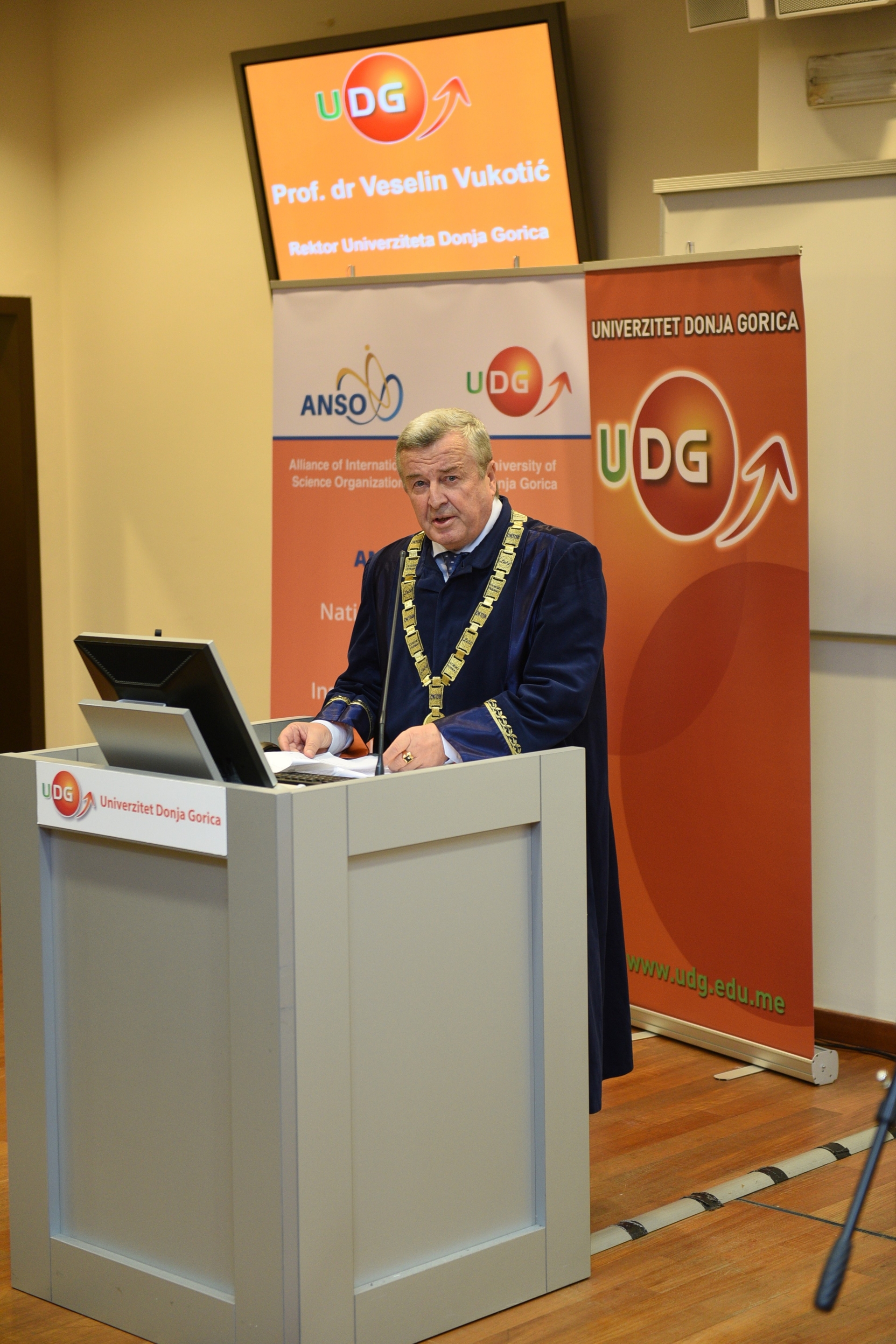 The second Honorary Doctoral Degree has been awarded at this year's ceremony since the founding of the UDG. Professor Barbara Kolm, Vice-Governor of the Central Bank of Austria, Director of the Austrian Economics Center and Hayek Institute in Vienna and an associate professor at UDG was awarded the diploma of honorary doctoral degree of UDG by professor Dragan Vukčević.